Born Skincare Participates in The Yoga Market as Featured Organic Skin Vendor
Posted on Sep 23, 2014
Leading provider of all-natural anti-aging skincare brand, Born Skincare, is participating in The Yoga Marketplace, featuring the latest in yoga apparel, accessories, jewelry, nutrition, natural health and beauty vendors and services.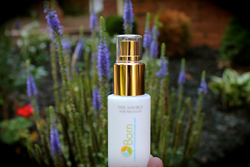 Born Skincare is proud to be a supporter and vendor at The Yoga Market September 18th-21st in Colorado during Yoga Journal LIVE, a top-notch educational opportunity for yoga practitioners of all levels from all over the world.
Attendees will explore new styles, get inspired and connect with a roster of highly regarded yoga teachers and luminaries, according to its website.
"We're thrilled to be participating in The Yoga Market," says Born Skincare creator Gloria Barghi. "It's the perfect time to showcase The Source forMuscles to like-minded individuals who will appreciate our natural and organic approach to our skin line."
The Source for Muscles boasts its star ingredients, muscadine oil, to help relieve sore muscles, inflammation, neck and back pain. Muscadine oil is rich in nutrients and is miraculous for body aches and pains because of its natural anti-inflammatory formula. It's great for athletes, especially yogis to recoup their muscles for their practice. Using all natural ingredients, The Source collection provides anti-aging solution for all skin types.
Customers can shop the all-natural skincare line online at http://www.bornskincare.com/our-products/. Born Skincare products promise certified ToxicFree and Cruelty-Free formulas with results that leave skin feeling smooth, hydrated and youthful.
About Born Skincare:
Born Skincare is a family-driven business that has a deep conviction in what we do, which makes us proud to put our name on every Born Skincare product. As a family, we believe that being healthy is paramount, and that starts with consuming the right foods and nourishing the skin. We have devoted years of research towards maximizing the health and beauty benefits the grape provides. The results of our tireless commitment are in every bottle of Born products we produce. For more information, visit bornskincare.com, Twitter @BornSkincare, Facebook, Pinterest at pinterest.com/BornSkincare/ and Instagram @BornSkincare.